I said I would cover the myth of Climate Change=Dying world.
Last year I was in Kemmerer WY at Fossil Butte. If you go to the visitor center, they have a walk from the parking lot to the museum. Along the way, 500 million years-present is covered with signs that say, the type of life, biosome and CO2s (anything dead like leaves etc. store their CO2 content.
I took two pictures: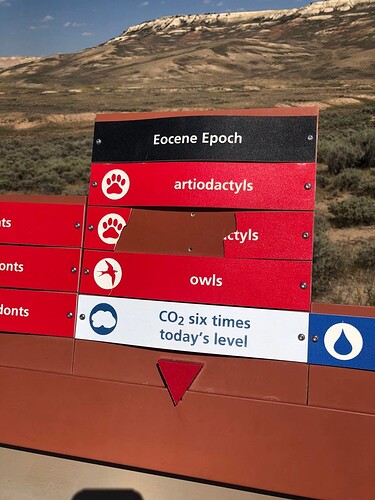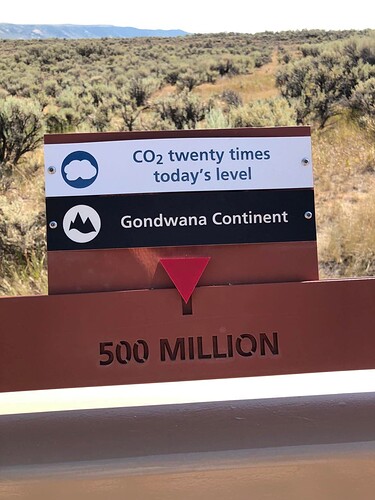 500 million years ago, our planet was 20 times higher in CO2s than today.
The Eocene, 20 million years ago, we were 6 times higher in CO2s.
And the Woke is saying the end is near because of 10% change (eye roll)
Did the planet die?
As a geologist, I have to say that our planet has had thousands of heat periods as well as ice ages. Climate change is very real. The planet has gotten so hot that pretty much everything has died or how about the die off of the dinosaurs, some 63 million years ago, brought on by dust after an asteroid impact. So much dust that the sun could not warm the planet and all died.
In sedimentary formations, 99% is composed of 3 types of sediment. Sandstone, Siltstone and Limestone. (there others but bear with me)
Sandstone represents beach or sand dunes
Siltstone represents mud that drops out after storms and runoff.(what Caly is going through today, massive flooding carries the mud out to sea and drops it.
Limestone reefs, formed in between the beach (sands) and deeper mud sediments. Reefs are 100% limestone, formed by animals (corrals, Bryozoa, mollusks etc, who build their homes out of CaCO3=Limestone.
So geologically, Sandstone sits on top of Limestone, that sits on top of siltstone (if we are in a Ice Age and the beach line is receding
In a raising ocean, the beach is now a mile or many miles inland and the reef built OVER the sandstone with siltstone over the Limestone. (are you bored yet?)
Now the myth buster!
When the earth has too much CO2s , could be by fires, autos or even volcanoes, the ocean critters go into hyper mode of building reefs. We already have trillions of tons of Ca (calcium) and Water H2O. Add CO2 and presto, H2O +CO2+Ca= CaCO3 +O2 (air)… Congratulations, you just made limestone.
Limestone - Wikipedia
Woke scientists scream, "the reefs are dying". Hardly!, Reefs are currently growing so fast that they are getting sun bleached along their tops in the wave zone, but they are expanding out their sides a brake neck speed.
Geologists for 100s of years studied the relationship of volcanics>increased CO2s >bigger limestone formations. It is no different if we get Carbon from car emissions, Fires, From Coal fires, or volcanos
Do volcanoes really emit more CO2 than humans? (zmescience.com)
Very interesting read and you should read the comments below the article, underwater volcanos constitute 90% more of the Carbon than surface volcanos and are NOT included in the article or human comp…
Summation
Will CO2s heat up the earth? Yes
Will we get wider droughts and flooding because of CO2s? Yes
Will the earth FIX the problem of Climate Change? yes, it always does.
Will the earth Die? Yes in a few billion years when our sun goes super nova.
Ca+H2O+CO2,