Now BYU can recruit a transfer QB…
First, thank you, Jaren. You are one of the top ten quarterbacks of all time at BYU.
Second, unless we get an elite QB–think Jaxson Dart elite (I know he's not transferring this year) and not Kedon Slovis–I say give the guys who are already in the program a chance to show what they can do. When I say elite, I'm thinking Hudson Card from Texas, Grayson McCall from Coastal Carolina, or Brennan Armstrong from Virginia. BTW, As I'm writing this Slovis has committed to BYU
Insofar as guys who are already in the program, I ran across a name that I hadn't paid attention to previously: Cole Hagen. He has great game stats and seems like a perfect fit, But BYU didn't offer him out of high school. Instead he signed with Yale but transferred to BYU as a preferred walk on after his mission. He's 6'2", 185 lbs., so his measurables are decent. So I ask, "What's wrong with him?" Those of you living in Utah may know a lot more.
Here's a write up from Vanquish the Foe published last June after he transferred. One pertinent paragraph: "Prior to his mission Cole was a dual threat quarterback at Corner Canyon High School. During two years as the starter Hagen went 28-0 bringing home two state titles. He threw for 7,065 yards, 80 TDs, and 23 INTs. Also running for 1,766 yards and 20 TDs. He was Utah's Gatorade Player of the Year."
watched some of his game, Cole Hagen never lost. Great get for BYU.
I think Slovis was waiting all along to see if Hall declared. Stud player, we will see if he starts
Cole Hagen entire family are Ute fans. At the time, I believe BYU felt they already had enough good QB's (Wilson, Hall, Conover). Utah did not offer him either for basically the same reason.
Hagen is not only good, but he has football smarts, as well as Intelligence (Yale is not easy to get into).
I have known the Hagen family for 20 years and you will never find a humbler kid than Cole. His interaction with his special needs cousin is amazing to watch.
I would not be surprised if he is not one of the main contenders this spring/fall.
Slovis's bouncing around the transfer portal (USC, Pitt, BYU) is a huge red flag for me. He's also a head case.
Kind of like Jack Tuttle (Utah, Indiana, Michigan)
Or Charlie Brewer (Baylor, Utah, Liberty). He left Utah immediately after being replaced by Rising.
These 3 + school guys are a huge red flag to me.
For my money, Slovis is a very good get. He had two excellent seasons at USC, when they were down on talent around him, particularly on defense. Then with the coaching change and Caleb Williams coming in, he knew he wouldn't beat out a guy that just won the Heisman, mostly because of what he (Williams) can do with his legs. He went to Pitt to start, but Pitt's best receiver bailed and their offense wasn't a good fit for him. He could be a very good fit for us. He's very accurate and a tough kid. We need experience at that position for next year in the Big 12. I'm hopeful.
First, Merry Christmas to all. I hope you have a great day. Freezing rain and very icy roads have led the stake presidency to cancel Church meetings today (Nampa, ID, 15 miles west of Boise).
Second, I have read in a few places that the ESPN's #1 JUCO quarterback plans to sign with BYU this week.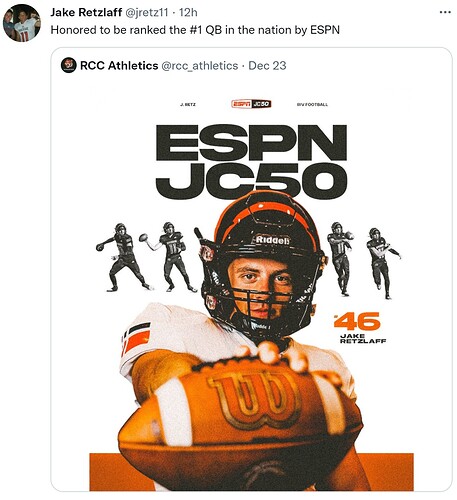 Not too impressed by the JUCO qb. Only one qb in the top 50, at #46, a 75 rating, w offers from Hawaii, New Mexico State, and UTEP.
#1 is pretty good. OJ Simpson was a Juco transfer
Why would anyone else come here? They didn't entice Slovis to transfer here only to have him get beat out by some lesser known guy. Like with Hall, there won't be a "competition" — or Slovis will just "enter the portal" again.
I suppose they could sell other QB recruits on Slovis likely being hurt by the 4th game. Not much of a pitch, though.
Looks like there will be really great competition for the starting position. Maybe Sol-Jay will clean up his throwing motion and be the starter.
I read on Twitter–poor source I know and I can't remember who posted which makes the source even less credible–that Retzlaff gave a verbal commitment last week but didn't want the news announced–which it still hasn't–until Slovis had committed. Retzlaff is evidently very confident that he can beat Slovis in a true competition.
Like I said, tidbit from a not very credible source but it sounds good.
Sol-Jay may have a reason to work on his throwing motion as well as reading defenses too. Should be good competition! That's what we need!
Kalani in talking about the hiring of Hill, he said he will use it, but won't make it a big part of his recruiting process.
That's because Hill can recruit by himself and it appears with the transfers in and the recruits, that is already happening.