So I wrote this up on Facebook, just wanted to repeat it here: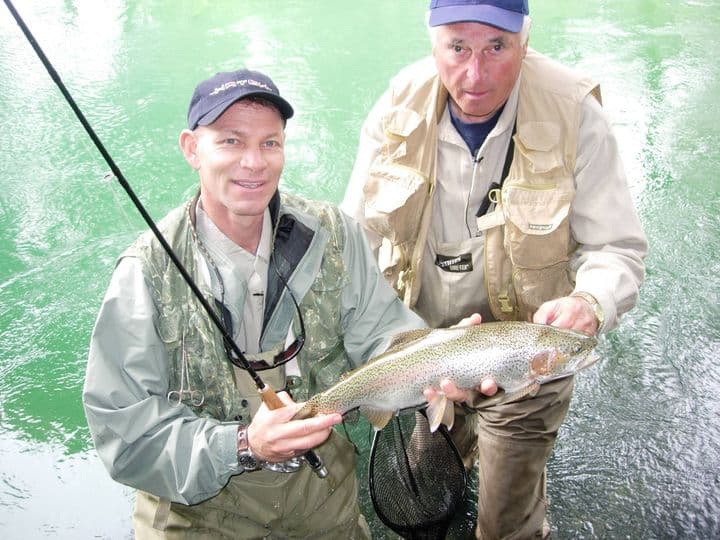 The world lost a great man today. Bobby Knight. I had the pleasure of fishing with him in Argentina.
Not long after the great sports announcer and outdoors Kurt Gowdy passed away, both Coach Knight and I sat on the banks of the Lamay River where I listened to many of the stories of his lifetime buddy, Gowdy. And how Gowdy, Knight, and the great baseball legend, Ted Williams, would sneak off to some foreign country like Cuba or Russia by making just a phone call.  We picked the Lamay because that is where Gowdy started The American Sportsman. I spent two weeks with Coach bouncing around the different rivers in Argentina. We were accompanied by his dear wife, Karen, along with fishing legend Kohn Smith. Many of you will remember him for his anger, but I will tell you a few things I know about the man:
He never cheated
He won his 3 national championship s and 5 final fours with hard-working players, and he only had one All American in all the years he coached and that was Isaiah Thomas.
He graduated most of his players as he made them get college degrees.
There has been around 50 players and assistants to Coach Knight that have gone on to become head coaches. Most of you will recognize Mike Krzyzewski, but there are many more. He probably has done more for the sport of basketball outside of any one man I can think of with exception to UCLA's John Wooden.
He would host basketball camps in the West just so he can get on our famous rivers.
It was on the Río Foyel river that I presented with him a Sage rod with the name  "Coach Knight - 803 wins". The winningest coach in NCAA history at the time. It moved him to tears.
One last thing, when I arrived in Argentina, there someone with a big sign with my name waiting for me. When I said I had to get my bags, the courier said told me to follow him. We didn't even go through Customs. We went through a side door, and there was our party, my bags, and a big blue limousine with a motorcade . We made our next flight with ease. When I asked who the ride was from, Coach Bobby Knight winked and said, "It's from the president of Argentina."
[

Active

](Redirecting...)