Missing shots early. Have to make shots as our defense can't defend against SM.
Out so couldn't see game. Obviously hung in there and had chances to win. They have done this in each of the 4 games against Gu and St. Marys. There is SOME glimmer of life. I predict they will beat either Gu or St Marys in the tournament.
Looking at box score, some bright spots. Fous of course, Johnson 7 for 12, Saunders 4-4, Williams 6 for 13. Waterman! 6 fo 9! Where did that come from?
And the dark side of the moon - George, 0-7, Hall 3-13 Robertson 0 for 3. They just can't seem to put a complete game together except for about 2 weeks ago at home.
The inconsistency for a D-1 program should not be this great.
Williams should have been in the game the last 3 minutes. Hall was bricking layups. Weak attempts and out of control. I believe Pope wants the young players get more playing time for next year.
It would be nice if all players can shoot well during the tournament. Seems like other teams have go to players that stay strong and under control while driving to the basket and make layups. Hall was doing it but lately not so.
Jim will tell you it's the refs fault again. But, refs are not going to call fouls when we look like we are falling down on purpose. SM's freshman star goes up 6-8 feet out under control while in the air and kisses the ball nicely off the backboard. Our players toss it up wildly hoping for a foul call.
No poihnt in providing a perspective and some insight for the St. Mary's game as the Hopper has already said everything any of us need to know or think about. Why even have a fan board when you have one guy who thinks he knows everything?
Why don't you just do a blog Hopper and then we can all read it so we know exactly what is going on and what all the good, bad and solutions are?
I knew BYU had little to no chance of winning the game when I saw David Hall wearing the stripes. He didn't whistle one call against St. Mary's in the first half. Between Hall and Nixon, I would bet that a typically very good BYU team year to year with winning records, has a losing record when either/both of those two officials are doing the game.
Was it the officials fault BYU lost? No, not entirely. They had a small influence on what happened. However, the timing of their calls, the fact that they would stop mid game and get after the BYU bench and Coach Pope regularly indicates their position when it comes to officiating the Cougars. It's an issue that has been going on for decades, if not longer and it isn't changing anytime soon.
Larimer, Aro and a few others know what I am talking about.
You are correct that the officials had a "small" influence on the outcome. The reason for the eventual loss is what you said to me. We don't often have even one player that can take over a game at the end. We don't have a consistent go to guy. So, I salute you for that.
This time it's Hopper that didn't take the bait!
Logan Johnson Is an NBA talent. BYU has no NBA talent.
Here's the interesting thing. Early in the season, Hall was under control and kissed the ball off the backboard nicely. Now, he drifts away from the basket and falls down. He's not being fouled either. We have players that can drive and deliver. But they are regressing including Johnson.
When I coached, I would stand in the way as they drove to the basket and bump them forcing them to stay strong and upright. It's not that hard to get even less talented kids to do some fundamentals.
When you coached, Pete Maverich was still playing…

Times and rules changes, so what you did in 1950 does not work for today. I think Hall still has mission legs is "one" of his issues. I also think the team has no focus, no definable plan to win games, as well as what Jim said "No leadership" on the team.
Now is the lack of leadership due to no one wants to step up or coach Pope. There are rumors that Pope public face is very different from his team face. He is hard to work for and he is not the best to motivate his players.
There is a very candid article by Dave McCain about Pope today:
BYU basketball: Mark Pope needs to borrow page from Sitake's playbook - Deseret News
While I have also heard that coach Pope is different when he puts on his media face versus the team coaching face it seems like the players enjoy coach Pope. Here's an interview with Dallin and Richie, in the last minute they talk about how they appreciate coach pope.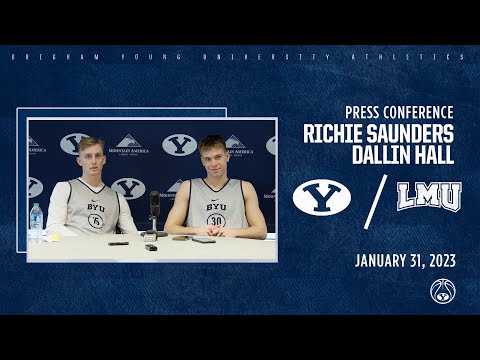 I just read that "candid article" and I'm not sure there is anything candid about it other than the writer giving out some free advice to Coach Pope. I think it is good advice and he should listen to it but that is about it.
We knew there were issues with the football team and Kalani either took advice from someone and did something about it or he knew himself and did something about it.
All the article is saying is that Pope should do the same thing. If that is candid, so be it.
Most of Dave McCann articles are fluff pieces extolling BYU and Pope, this was a lot more direct and, in some ways, "Candid" viewpoint.
I think Kalani knew he had to change and Tom Holmoe - his boss - made sure he knew he had to make changes. Holmoe has all the alumni and donor (and administration) pressure. Those 5 losses in a row were devasting and change had to come or Holmoe might lose his job (his job is to make sure lots of money is flowing in). Kalani stuck with his buddy WAY too long. But BYU and changes can be like giant ship turning - just takes a long time.